The whole
presidential election
in
Iran
is a
farce
, so I have the following announcement:
Sean Penn is the "elected president" of the
mullah theocracy of Iran
!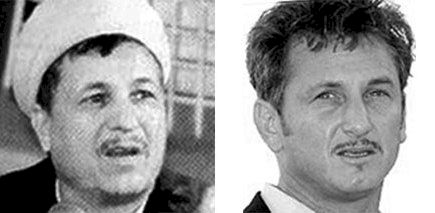 (Mullah
Akbar Hashemi Rafsanjani
,
Sean Penn
)
[Image source:
Persian Journal
/ Iranian.ws. Via
Regime Change Iran
.]
Mr.
Penn
will be your guide and
commentator
on the results...
Guided Tours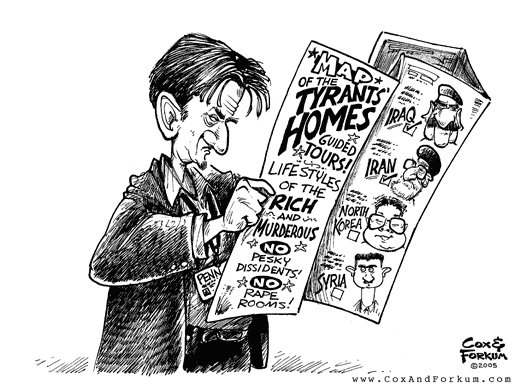 I will update this post with incoming news. In the meantime, mark
July 9
(
18 Tir
) in your calendar.
Recommended reading:
DEMONSTRATION AGAINST THE MULLAHS ON THE 18TH OF TIR
.
UPDATE 06/18/05:
The mullahs have ordered special agents to open voting booths around the United States of America! This is very scary! Read
Will Franklin
's post,
Iran's Election
, with interviews and photos. [Via
InstaPundit
's post,
Sham Iranian Elections in the United States?
] I hope that the responsible authorities (FBI, CIA?) are looking into this matter...
UPDATE 06/19/05:
Revolution fails Iranians
- Telegraph.
Iran's choice: pragmatist or hardliner?
- Economist.
Ahmadinejad: the new face of Iran's far-right
- IranMania.
Iran poll challenger accused of ballot fraud
- Guardian.
UPDATE 06/21/05:
Anti-West Forces Unite in Iran Elections
- Newsday / AP.
Here is an excerpt from
Christopher Hitchens
's article,
Mind over Mullahs
.
The Iranian diaspora now runs into millions, from California to Canada and all across Western Europe. Let the smart ones go: all the easier for us to run a stultified and stalled society. And every now and then they make a move to show who is in charge. Last August, in the city of Neka, a 16-year-old girl named Atefeh Rajabi was hauled into a court for having had sex with a man. She might possibly have gotten away with one of the lesser punishments for offenses against chastity, such as a hundred lashes with a whip. (That's what her partner received.) But from the dock she protested that she had been the object of advances from an older man, and she went as far as to tear off her hijab, or headscarf. The judge announced that she would hang for that, and that he would personally place the noose around her neck. And so, in the main square of Neka, after the Iranian Supreme Court had duly confirmed the ruling, poor Miss Rajabi was hanged from a crane for all to see. (VanityFair.com, July 2005 issue.)
UPDATE 06/22/05:
Read
Allen Forkum
's post,
Knock the Vote
, for more articles and posts.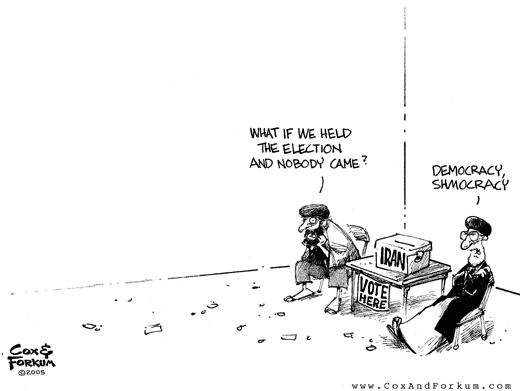 ANOTHER UPDATE:
Here is an excerpt from Amir Taheri's article,
Iran's Revealing Electoral Mess
.
It is virtually impossible to know how many voters actually went to the polls. Iran has no independent election commission and there were no impartial observers. Worse, the seven candidates (jokingly dubbed "The Seven Dwarfs") had observers in fewer than a third of polling stations. But even in the official results, the percentage of the electorate that took part is the lowest of all the nine presidential elections held since the Islamic Republic's creation in 1979.

Also interesting is the divide between urban and rural Iran. While the rural areas reportedly went to the poll in huge numbers, at times reaching over 80 percent, urban Iran clearly shunned the exercise, with turnout as low as 12 percent in some cities.

Add in an age divide: The first analyses show that a majority of the young, those 15 to 30, did not go to the polls, while turnout reached 70 percent at the upper ends of the age ladder. (BenadorAssociates.com / New York Post, 06/22/05.)
From
Robert Tracinski
's commentary,
No Future for the Mullahs
.
The present of the Arab and Muslim world is a see-saw battle between the terrorist-dictator alliance and advocates of representative government. But the future actually looks much better. In one country after another, from Lebanon to Iran, all of the evidence shows that the future belong to liberty.

I mean that literally: most nations in the region have gone through a recent "baby boom" and have an enormous population of young people--who are overwhelming influenced by the West, support pro-freedom reforms, and opposing the existing regimes, a demographic trend nicely captured in this op-ed on the Iranian election debacle. (For more on Iran, see also.) (TIADaily.com, 06/22/05.)