Take some time and read Edwin Locke's article,
On Flag Day Celebrate America's Core Values: Reason and Individual Rights
. Here is the last paragraph of the article.
Despite its undeniable triumphs, America and its flag are by no means secure. Its core principles are under attack from every direction--not only by foreign terrorists but by people in our own country--by religious zealots who want to undermine the separation of church and state, and by our own intellectuals, who denounce reason in the name of skepticism, rights in the name of special entitlements, and progress in the name of environmentalism. We are heading toward the destruction of our core values and toward the dead end of nihilism. The Stars and Stripes, which represent the core values and achievements of America, must be waved proudly and defended to the death. And the values underlying the flag must be understood. Our lives depend on it. (CapMag.com, 06/14/04.)
How will you celebrate
Flag Day
? Go to Military.com and read the article,
Grand old Flag Customs
.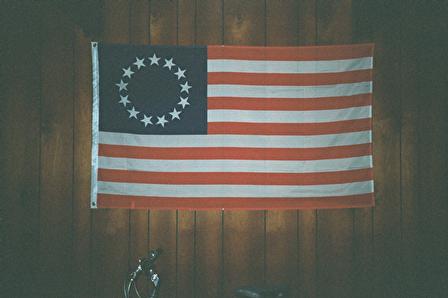 [1st Stars and Stripes /
Betsy Ross flag
from my old apartment.]

Michelle Malkin
has several flag day links listed in her post,
Honoring Old Glory
. [Via
Sisu
.]