Here I am,
two years later
. I want to quote from my first
ANNUAL BLOG REPORT
:
"It has been fun, interesting and rewarding to blog. I will continue to do it as long as I think it is worth spending time on doing it. Right now, I definitively get a "kick out of it". EGO blog has become my own web portal and start page. It is a place for me to archive things that I think are interesting to save for the future. It is a great way of keeping online articles in one place. It is also very convenient to have your favorite links and bookmarks in the sidebar of the blog.
Why did I start to blog? One reason is the great opportunity to be able to vent your views in public. I have the chance to comment on today's news in a quick and direct way. I think that blogging is a great way of spreading better ideas."
I must admit that it have been ups and downs during this past year. Directly after I introduced
EGO online store
, I got this "friendly" comment from someone called "
jackiefg
":
"hold on, this is too much. now i'm supposed to want to buy t-shirts from a guy on blogspot because he writes his thoughts on the net (much like how many zillions of us do?) wait! this guy has a website! well then let me buy one of his t-shirts! i hope i can get in before the big line up."
What's up with this kind of comment?! I want to thank you who have purchased EGO products. If you are interested in
buying a certain product
, please contact me and I will add it to the store.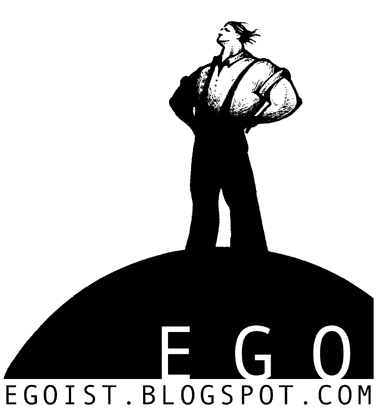 EGO logo by Cox & Forkum.
Recently I felt a bit down and was thinking of taking a break from blogging. I had published my
interview with Dwayne Bell
(founder and editor of
Body in Mind
) and later on I found some nasty comments by a bunch of anarchists who attacked my post in a very nihilistic way. But I am happy to say that I got moral support from some of my loyal readers and I got back on my feet again!
I must say that today is not an easy day to blog. I got totally disgusted by reading
today
's
newspaper
(The
Swedish Daily
) and I have had a hard time to concentrate my thinking on positive things. Luckily, you could get new energy by surfing around the blogosphere. Here is an excerpt from Michele Catalano's (A Small Victory) post,
Inside Blogging: The email edition
:
"Many people mistake weblog writers for paid mass media columnists. They mistake weblogs for daily newspapers.
There's really no other way to explain the mail I get.
Why haven't you been covering the torture scandal? Are you avoiding the issue? Are you embarassed? Are you trying to cover it up? Do you not deem it as worthy as Ted Rall's comic?
Real email. Verbatim.
Here's the thing: I have no obligation to cover everything in the news. I am not Newsday or the Daily News. I have no business model of fair and balanced coverage. Should I skip the days events and write about badgers and bananas, you really have no right to complain. If you pay for delivery of the Daily News every day and you feel as if they have not been complete in their war coverage, by all means - write them and tell them. Complain about their bad grammar or poor choice of headlines or biased editorials. They may even listen, because they depend on you to keep in business.
I don't. If you choose to skip over this blog, I don't lose any money. I lose a hit, but hits aren't cash and your decision to not read here does not really weigh heavily upon my mind. I have no board meetings or story meetings. I have no staff. I have no one to answer to but myself. Therefore, I write whatever the hell I want.
It's not just me. I see it as I glance over other weblogs. You've seen the posts: Blogger A has ignored the latest Bush controversy! Blogger B is ignoring John Kery's past! That must mean something, right? Lack of coverage means you condone whatever it is your not covering!
Right. Sure.
Well, to set the record straight (even though I already wrote a lengthy post on this a while back), I am really not in favor of torture. There, I said it. That should take care of about three emails I received last night." (Michele Catalano, 05/06/04.)
The second part of Michele's post is dealing with the exchange of links in a proper way. For more on the issue of linking, read Bill's (
INDC Journal
) confessions.
Another positive sign is that
Rachel Lucas
has started to blog again! [Hat tip to
Dave Halliday
(SynthStuff).] It is good to know that my virtual "neighbors" @
Cox & Forkum's blogroll
are back in business again!
I will add a countdown script to the EGO poll category so my readers could see how long time has gone since America and its allies attacked Afghanistan and Iraq. In the meantime, please read my posts,
THE LIBERTARIAN ANTI-WAR MOVEMENT
and
THE BATTLE OF IDEAS: CHICKENHAWKS VERSUS PACIFICISTS
.
Some of the new features that have been added during the year are the
Book of the Month
and the
Guest Columns
. I have also been able to place ads on my blog. I am still a "poor" capitalist and I don't think I will get rich on
advertising
, but I am happy to provide my readers with different products and services that could be of interest.
I am very happy with the new three column
template design
.
And now it is time for some trivia stats compared with last year:
According to recent
Site Meter
statistics, my blog has on average 123 visitors / 165 page views (2003: 50 visitors / 90 page views) per day. I am ranked # 7,344 of 144,065 (2003: # 19,866 of 134,387) on
BlogStreet
.
I want to end this post by sending a greeting to John Cox & Allen Forkum: Thanks for taking the time answering my
interview questions
. Your
First Annual Report
has been great inspirational reading in preparation for writing this post.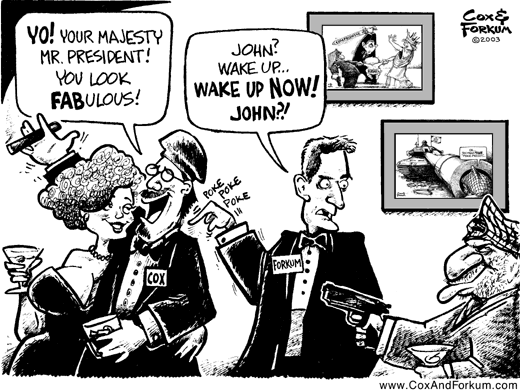 For more cartoons like
this
, check out
John Cox & Allen Forkum
's book,
Black & White World
.
To my readers: Thanks for reading my blog. I appreciate the email messages, comments, and feedback that I have received during this period. Keep 'em coming! See you around! Cheerio &
Right Ho!
UPDATE 05/10/04:
Allen, Elizabeth, Christer, Jim: Thanks for your kind words! :)
The following
comment
by Mats is the type of remark that could result in a blog break:
"Doesn't the man on the ego logo remind you of other men in other posters from other countries during other times?"
I will give Mats a chance to explain himself. For your information, here is an excerpt from my
interview
(12/04/03) with John Cox & Allen Forkum:
EGO: First of all, I want to thank you very much for your work with the EGO logotype. Do you want to tell my readers how you came up with the logotype?

FORKUM: The initial idea for the logo was a graphic solution using the word "ego" to form a person's face, but the results didn't really connote egoism strongly enough. I knew John could illustrate a heroic, proud man so that is the tack we took. The original drawing had a square border around it. We eliminated that so the man would be the highest graphic element in the logo. The sphere was meant to connote a lofty peak or even the world itself.

COX: Heroic was what I was shooting for. There was power in his stance that I think captured a sense of joy and determination. I really wanted to work simple, simple, simple. You put the logo on a jersey and I've worn that shirt out. [EGO Editor: How about sending a X-mas gift to John & Allen?] I really liked the understated size of the artwork, yet its intent is a real attention-getter. That logo was a fun project.