Come on! Enjoy a sight(reading)seeing tour of some of the places I have been visiting:
First stop is Miami Valley in Ohio, and the topic of a "virtual business model." Read Anita Campbell's post,
Today's "Anywhere" Businesses
. Next bus stop is Dayton, Ohio. Read how a
teacher
loses his job over taking a photograph of a nude model. [Hat tip to
Body in Mind
.] For some related posts, read
Boom for Busty Danish Natural Resources
@ Living in Europe.net [via
InstaPundit
], and my post,
THE WAR ON THE SWEDISH WORD FOR 6...
The final destination is Troy, Ohio. It is soon time for the
Strawberry Festival
. Read Desiree D. Dudley's movie review,
The Travesties of Troy
.
Please give me suggestions and tips on places to visit. It looks like I should pay a visit to Seattle... [Via
Damian Penny
.]
Take the quiz:
"Which American City Are You?"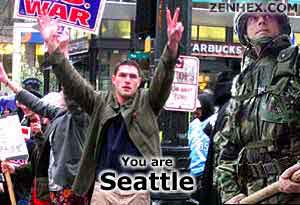 Seattle
Your dark exterior masks a caffeine driven activism. You'll take up a cause and you'll get ugly to advance it.
All of the possible quiz results for this quiz:
New York (You scored 0) [Editor's comment: I like New York. I wonder why it didn't get any score...]
Las Vegas (You scored 1)
Cleveland (You scored 1)
Washington DC (You scored 0)
San Francisco (You scored 1)
Seattle (You scored 2)
Los Angeles (You scored 1)
Memphis (You scored 0)
Boston (You scored 0) [Editor's comment: I like Boston. I wonder why it didn't get any score...]
Orlando (You scored 0)