Do you think it is possible to start a
freedom project in Cuba
similar to the
Spirit of America's campaign in Iraq and Afghanistan
? Isn't time to get rid of
Fidel Castro
, once for all? I want to smoke a
Havana cigar
soon!
Here is an excerpt from the post,
Independent libraries in Cuba
.
It wasn't until I was researching the independent journalist movement in Cuba, that I came to fully appreciate the important role that librarians and libraries play in the freedom of press, speech, and expression. In Cuba, these independent libraries are spread throughout the country, sometimes housed in people's homes. The librarians put themselves at great risk to provide reading material to the public that can not be found in "official" government supported libraries. During the March 2003 crackdown on dissidents, 11 of those arrested were librarians, and unlike the recent high profile releases of a few of the independent journalists, none of the 11 librarians has been released. (Independent Journalists Online, 02/22/05.)
I will contact the Swedish support group for the
Independent Libraries of Cuba (Bibliotecas Independientes de Cuba)
. Here is an excerpt from Val Prieto's post,
Vermillion Public Library ROCKS!!!
A few weeks ago I wrote about the Vermillion Public Library and how it's the first and only public library in the US to sponsor an independent library in Cuba. This is both a slap in the face to fidel castro and hopefully a wake up call to the other members of the American Library Association.

Last week, Nat Hentoff wrote once again about the Vermillion Public Library in the Village Voice. It seems that the Vermillion Public Library Board is not content with only sponsoring a Cuban independent library, but with inciting other public libraries in the country to do the same. (Babalu Blog, 02/21/05.)
Duplomacy II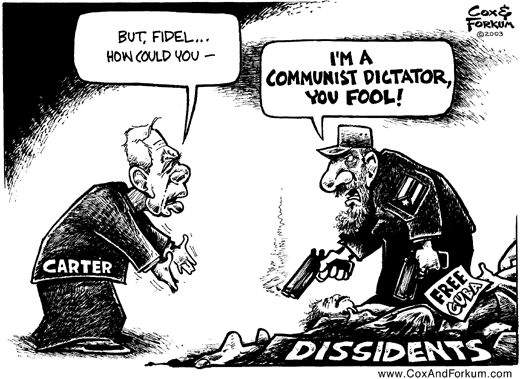 In the news: