This week's Midweek Sampler is focused on foreign policy.
Democracy In Action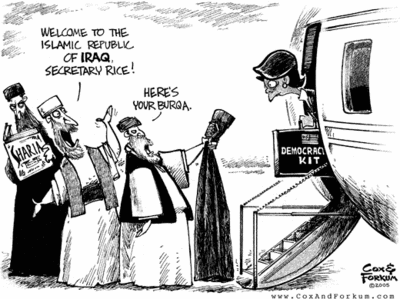 Click on the link to listen for a reference to a paragraph (
The Ideological Enemy
, page 28) in Peter Schwartz's book,
The Foreign Policy of Self-Interest: A Moral Ideal for America
.
Suggested sample piece of music: Go to
Dismuke's Virtual Talking Machine
and
listen to

Alexander's Ragtime Band
(1912) by
Royal Military Band
.
Book references (page 28, footnote #14 / references page 72):
The Islamic Republic of Iran: Religious Apartheid
(document) by
Marze Por Gohar Party
.