Do you know what the letter "
D
" really stand for in D-Day? Here are some good sources for keeping the memory alive:
The Sixtieth Anniversary of D-Day
@ Blackfive - The Paratrooper of Love. [Via
Mudville Gazette
.]
Normandy 1944
@ Encyclopædia Britannica. [Via
Patriots for the Defense of America
.]
German Chancellor
,
Gerhard Schröder
, attended the ceremony. For a related topic, read my post,
HISTORY REVISIONISM IN GERMANY
. My "home" country, Sweden, didn't play a good role during the World Wars. As a neutral country it acted in a middle-of-the-road fashion without taking any real stand against Hitler's Germany. Read my post,
THE DARK SIDE OF SWEDEN
, if you want to get a glimpse of the dark parts of history. [Editor's note: It is the
National Day of Sweden
on June 6.]
Generation Chasm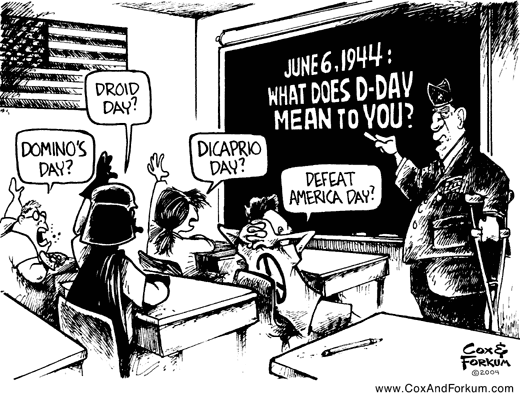 For more cartoons like
this
, check out
John Cox & Allen Forkum
's book,
Black & White World
.