Just when you thought it was safe...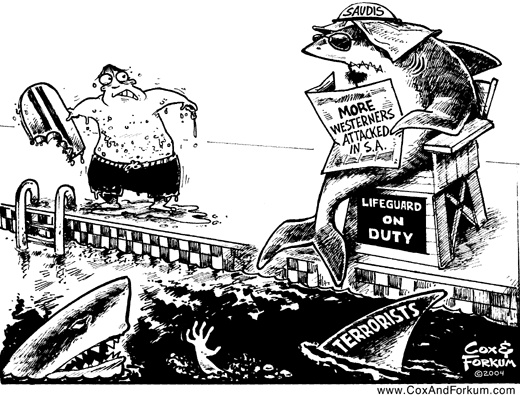 In the news:
Al Qaeda Moves to Targeted Attacks in Saudi Arabia
. (Ghaida Ghantous, Reuters, 06/14/04.)
A Web of Terror
. (Sarah El Deeb, Associated Press, 06/15/04.)
Website shows US hostage in Saudi
. (BBC, 06/16/04.)
Do you trust the
Saudis
? Here is an excerpt from Lisa Myers' article,
Saudi prince: Zionism to blame for terror attack
:
Other senior Saudi officials reaffirmed the claim that supporters of Israel — Zionists — were behind the terror attacks.

Prince Nayef, the Saudi Interior Minister said, "Al-Qaida is backed by Israel and Zionism." (NBC News, 06/15/04.)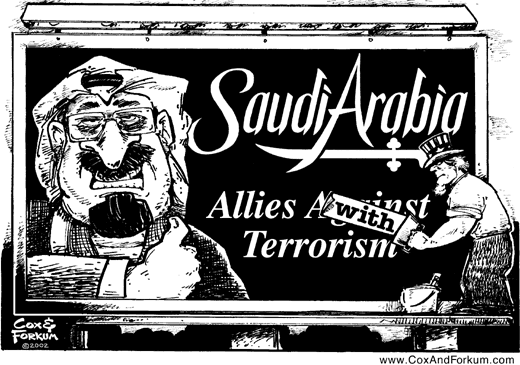 For more cartoons like
this
, check out
John Cox & Allen Forkum
's book,
Black & White World
.
Related: My post,
SAUDI ARABIA'S TERRORISM CONNECTION
.
UPDATE 06/17/04:
Go to
Middle East Media Research Institute (MEMRI)
and read a translation of an interview with the commander (Fawwaz bin Muhammad Al-Nashami) of the Al-Quds Brigade terrorist group. The jihadists attacked sites of the oil industry in the city of
Khobar
. Read Daniel Kimmage's (
Al-Qaida's Next Action Hero. An insider account of the Khobar assault
) take on the Sawt Al-Jihad (Voice of Jihad) interview. Here is an excerpt from the article:
Al-Nashmi's story takes the form of an interview with Voice of Jihad. Al-Nashmi recounts a heroic "battle" in which he, along with comrades called Nimr al-Baqmi, Husayn, and Nadir, set out to cleanse the Arabian peninsula of infidels. In one violent day, they attack the offices of two oil companies and a compound for Westerners, seeking out and killing non-Muslims, beating off assaults by Saudi security forces, and finally escaping with one holy warrior martyred. (Slate, 06/16/04.)
Jefferson Morley at the Washington Post has the following question:
Is Al Qaeda Winning in Saudi Arabia?