Five years ago, I sat in an office in the
Midwest (Troy, Ohio)
, when a colleague came and shouted to us: - "Turn on the radio!" I listened and got terrified. During the lunch break I called my parents and some of my friends in Sweden. Then I tried to contact individuals in New York City, e.g., financial trader, Morris Markovitz.
From my post,
SEPTEMBER 11, 2001: DON'T FORGET, DON'T FORGIVE...



I took the above picture on my first trip to New York City in 1996. Financial trader Morry Markovitz arranged so I could visit the commodity exchange at the World Trade Center. It was a great experience to walk around on the trading floor and watch capitalism in action! (EGO, 09/11/03.)


Refresher Course



Here are some links from Scott Holleran's newsletter, Concord Crier:

Confronting Terrorism V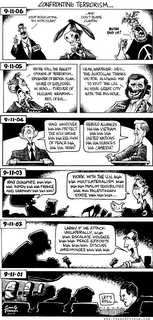 Related: My post, NO POSTS ON SEPTEMBER 11.