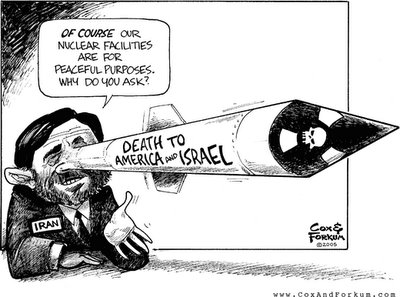 As Plain As...
In the news:
Iran rejects proposal aimed at breaking nuclear deadlock
- Iran Focus.
Here is an excerpt from Joseph McHugh's article,
Military Action on Iran Likely to Come
.
I was recently talking to an acquaintance of mine, an acquaintance from Saudi Arabia, who is connected with their government. When the subject of Iran came up, a look of gravity came over the man's face. "Something must be done," he intoned. "We are all afraid." Now this man is no friend of President George Bush or Israel, but he expressed the desire to see Israel do something. What an irony: The enemies of Israel looking for Israel to save the world. It is a perfect illustration of Ayn Rand's point that the world depends on its producers, while simultaneously loathing them. Doubtless, the kingdom of Saudi Arabia would condemn any attack on Iran by Israel in the strongest of terms, while secretly breathing a sigh of relief. (AmericanChronicle.com, 11/26/05.)
Related: My post,
SHOULD I "NUKE" CERTAIN COMMENTS?