I don't think that David Holcberg's article,
U.S. Should Not Help Tsunami Victims
, should be included in
Arthur Chrenkoff
's post,
The 12 most stupid tsunami quotes
. [Via
InstaPundit
.] I am happy to see what many of his readers are in agreement with my opinion. Talking about "opinion," I am thinking of getting rid of the link to The OpinionJournal (at the News category), after reading James Taranto's take on Mr. Holcberg's article. He has titled the link: "
Idiotarian Tidal Wave
." I wonder who really is the "
idiotarian
"... Maybe I should a link to The Financial / National Post instead? Read Terence Corcoran's article,
The aid tsunami
. Here is an excerpt.
If there's an emerging lesson in the aftermath of the tsunami, it is this: Beware of aid efforts that must be trumpeted in press releases and hyped at news conferences. The bulk of world relief to tsunami victims, soaring to hundreds of millions of dollars, had been registered by private agencies collecting donations from individuals who sought no public recognition, issued no media release and made no effort to get their names into the papers. It was only after it became obvious thousands, if not millions, of individuals wanted to help that the world's governments -- in Ottawa and Washington and elsewhere -- suddenly saw an opportunity. Absurdly, Ottawa announced it would "match" the private donations of individual Canadians -- as if Ottawa got the money from some magic fountain behind Parliament Hill rather that from taxes on the same individuals who had already volunteered. (www.Canada.com, 01/04/05.)
Do you want to own an artwork by
Cox & Forkum
? Check out their
Tsunami-Relief Art Auction
. The auction ends on January 7th at noon CST.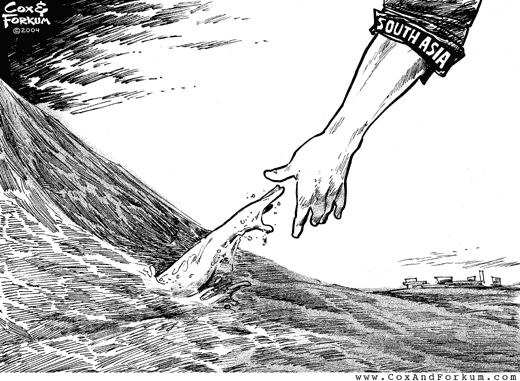 UPDATE 01/08/05:
Read The
Ayn Rand Institute
's
Clarification of ARI's Position on Government Help to Tsunami Victims
. [Hat tip to
Allen Forkum
.] See also
Noumenalself
's post,
The Ronald McDonald House principle
.