The
Islamic terror started in Iran, 25 years ago
. It is important to understand where the
headquarters of terrorism
is located when you are conducting the
war on terror
... Here is an excerpt from Amir Taheri's article,
It All Started in Tehran
. [Via
Blog-Iran
.]
In a sense the Nov. 4, 1979 attack on the US Embassy in Tehran could be regarded as the opening scene of a long drama that reached its catharsis on Sept. 11, 2001. ...

The surprising show of weakness from Washington also encouraged the mullas and the hostage-holders to come up with a fresh demand each day. (Arab News, 10/30/04.)
Go and read Dr. Rusty Shackleford's (The Jawa Report) post,
Islamists Declared War on the US 25 Years Ago Today
. [Via
The Politburo Diktat
.]
September 11th may have awakened us to the fact that we were at war, but that war had been declared long ago. It was declared 25 years ago today by the extremists in Iran. Today, the Islamic Republic of Iran is seeking nuclear technology--technology that could lead to the development of nuclear weapons--and the Europeans have taken the Carter route in dealing with the mullahs. For each concession given to them by the Europeans, the jihadis in Iran see Western weakness. They saw this weakness in the US as we gave them cash in exchange for the hostages. They saw this weakness as Reagan retreated from Lebanon. We can bear to show them weakness no more. (MyPetJawa.mu.nu, 11/04/04.)
Scott Holleran has plenty of links in his newsletter (November 4 issue)
The Concord Crier
. Here is a selection:
Here is an excerpt from Scott Holleran's article,
U.S. Policy Towards Iran: 25 Years Of Denial
.
The terms of appeasement were set in 1979, when the war was first declared and America refused to respond with military action. President Carter, who had nixed a plan to assassinate the Ayatollah Khomeini, instead negotiated with the Islamist state, releasing blocked funds. Only then did Iran return America's prisoners of war in what was widely (and wrongly) heralded as a victory for America's new president, Ronald Reagan. (Capitalism Magazine, 11/05/04.)
It's time to stop this appeasement policy, otherwise you will see more of these attacks coming in the future:
Reporters Without Borders voiced dismay today at the murder yesterday in Amsterdam of Theo Van Gogh, a controversial filmmaker, writer and columnist known for mordant and provocative views who had received death threats after a film he had made about Islam was recently shown on television. (Rsf.org, 11/03/04.)
Go to
Zacht Ei
for more on the situation in Holland after the murder of Theo Van Gogh. [Hat tip to
Andrew Sullivan
.]
Look what's happening in the blogosphere! From Hossein Derakhshan's (a.k.a Hoder) post,
Worrying death threat
.
U.S. election aside, hot topic of the last couple of weeks in Persian blogosphere has been a blog called "Islamic Army" in which its anonymous author has threaten a big list of Iranian blogger for their "insults" to Allah, Prophet Mohammad and other Shia Imams. (Hoder.com, 11/05/04.)
Lighting The Way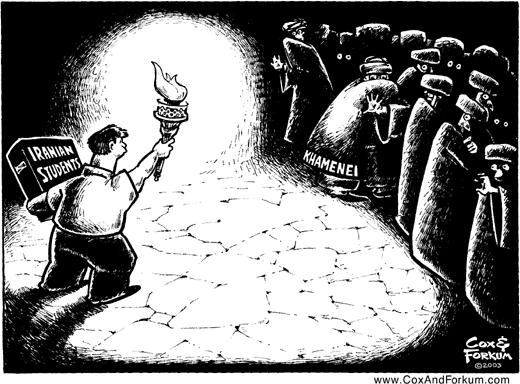 Jihâd fi sabîl Allâh
is a deadly threat against the rational pursuit of happiness!
Do Not Read This