It's time to join the buzz and do some
catblogging
. Let me introduce you to Morris the cat. He has got a new home. I had purchased a pair of boots by
Cat
erpillar Footwear (
Wolverine World Wide
, Inc.). I put the box on the floor and Morris jumped into it. It is his cat house from now on.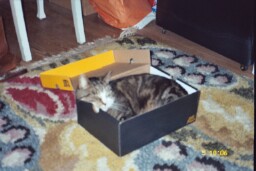 Talking about pets, did you know that the
Mini car
has got the nickname "dog house" in the Swedish language?
UPDATE:
This week's
Carnival of the Cats #6
is hosted by The Waterglass.
UPDATE 04/26/04:
Commissar has started his own pet blogging with a "
running dog
." I can assure the readers of Politburo Diktat that this fight will have a different ending than the movie
Cat & Dogs
...