Time for my weekly post on Iran. It seems that the Mullahs have a hard time to avoid the spotlight. That's good. To use
Michael Ledeen's slogan
: "Faster, please."
From
Debka
(02/06/04): "Iran's Islamic Revolutionary regime last month marked the 25th anniversary of its victory over the Shah by launching a sophisticated missile dubbed Raad and its accompanying advanced radar system designated DM-3b." [Hat tip to
Blog Iran
mailing list.]
For more on Iran's arsenal of weapons, read Nooredin Abedian's article,
More Than Don Quixote
.
UPDATE 02/11/04:
President Announces New Measures to Counter the Threat of WMD.
In the news:
"United Nations inspectors have found a new type of centrifuge design in Iran and other experiments that Tehran has failed to declare, despite its claim in November that it had fully disclosed its nuclear programme." (The
Financial Times
, 02/11/04.)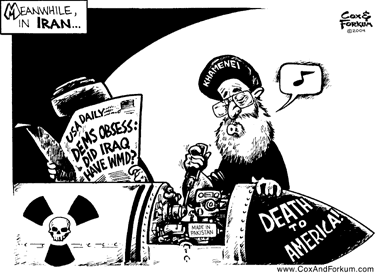 For more cartoons like
this
, check out
John Cox & Allen Forkum
's book,
Black & White World.
UPDATE 02/13/04:
Iran's secret nuclear plans exposed.