In the news:
Tyranny wins in Iran.
UPDATE 02/22/04:
From
Reuters
:
"The 50.6 percent turnout was well below the 67 percent who voted in 2000 parliamentary elections. It also was the lowest in a parliamentary vote since the 1979 Islamic revolution.
Turnout in the capital Tehran was around 29 percent, an Interior Ministry spokesman said. In Tehran province, which includes outlying towns and cities, it was 33 percent."
Go to
Free Iran News
for a good coverage on what's going on at the moment.
Check out Cox & Forkum's post,
Ballot Initiative
, for more links.
UPDATE 02/23/04:
Here is
Ayatollah Khamenei'
s comment on the result:
"Those who lost the elections were America, Zionism and the enemies of the Iranian nation."
Read Michael Ledeen's article,
The Great Iranian Election Fiasco
.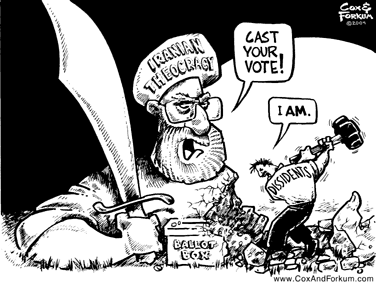 For more cartoons like
this
, check out
John Cox & Allen Forkum
's book,
Black & White World.