Read
David E. Kaplan
's detailed cover story in the latest issue of the U.S. News & World Report, on how the Saudis are sponsoring a global terror network. [Via
Little Green Footballs
.] It is scary reading on how Saudi Arabian officials and diplomats have been spreading their
religious dogma
-
Wahhabism
. Luckily, it looks like the clerics of the "
Institute for Islamic and Arabic Sciences in America
" will have a bit harder with their activities in the future... For more information, go to
The Search for International Terrorist Entities
.
Related: My post,
TANGLED WEB OF TERRORISM.
UPDATE 12/12/03:
What do you think
Prince Bandar bin Sultan, Saudi Arabian Ambassador
to the United States, will say at the
City Club of Cleveland
, on December 15?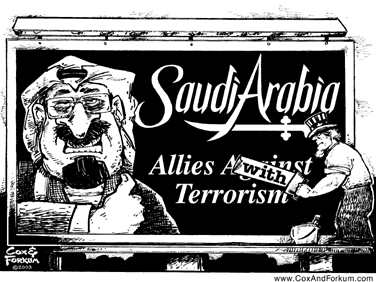 For more cartoons like this, check out
John Cox & Allen Forkum
's book,
Black & White World.