A few days ago, I was walking across the Iron Square (I call it the "red square" because of all the labor union headquarters, the "people's house", socialist bookstores, et cetera, located around the square) and a man approached me with a flyer. It was announcing a lecture by Hal Mayer, founder of the Hartland Institute. The title of the speech:
"September 11 and the Demise of Religious Liberty."
Here is quote from Hal Mayer's article,
Terrorists and the Demise of Religious Liberty
:
"Jerry Falwell and Pat Robertson pointed the finger. They said that the reason for the terrorist attacks was the tolerance of homosexuals, the purveyors of pornography, and the abortionists. There was a media outcry against this supposedly illogical conclusion, and these men withdrew their statement. In actuality, even though they didn't see the whole picture, Falwell and Robertson had identified a Biblical principle." ["EndTime Issues," December 2002.]
Check out cartoons on
Falwell and Robertson's Stupid Comments
@ Dary Cagle's Professional Cartoonists Index. Read Mark Morford's column,
Jerry Falwell Blames You
. [Via
Little Green Footballs
.]
Courting Trouble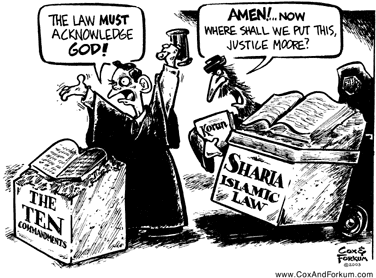 For more cartoons like
this
, check out
John Cox & Allen Forkum
's book,
Black & White World.
Related: My post,
JUSTICE VERSUS THE TEN COMMANDMENTS.