I wonder how many people showed up at the demonstration in Gothenburg against "
U.S. occupation of Iraq
". I am sure that the
anti-war crowd
was smaller than last time. Check out
ProtestWarrior
's updates and Anna's report @
Belligerent Bunny
. [Via
InstaPundit
.] Strangely enough, I am in agreement with the demonstrators on one point; America should leave Iraq, but with the following addition:
ATTACK IRAN NOW!
Am I a
warblogger
, or what?! I don't believe in
"nation-building"
, and with the
latest terror attack
in Iraq, I definitively think it is time to move on and go after the next member of the
"axis of evil."
Related: My post,
THE TRUTH ABOUT THE "PEACE" MOVEMENT.
If you haven't done it yet, please take some time and sign the petition,
Support America and the War Against Terrorist Nations
, and vote in the EGO Poll - "
Which Country Should Be Next?
"
"To Victory"
UPDATE 10/28/03:
Read Glenn Reynolds' article,
"Anti-war?" Or just on the Other Side?
American Haters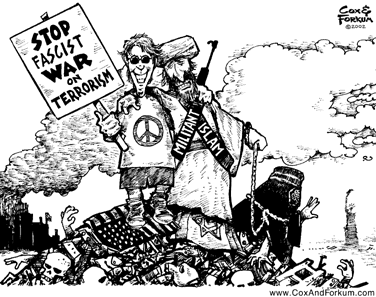 For more cartoons like
this
, check out
John Cox & Allen Forkum
's book,
Black & White World.