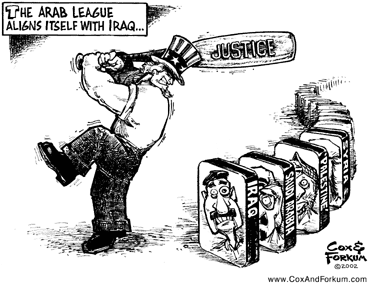 For more cartoons like
this
, check out
John Cox & Allen Forkum
's book,
Black & White World
.
Here are some quotes from the book, on page 8:
Forkum: The first attempts to undermine America's resolve to wage war came from the (supposed) pacifists, who demanded that the attacks be treated as crimes not acts of war. This would have meant bringing justice merely to those directly involved, most of whom conveniently committed suicide in their attacks.
Cox: The war cartoons had all the makings of some of my most energetic work. The challenge of conveying conflict, patriotism, perseverance and justice - all with the backdrop of deadly action - was definitely right in my wheelhouse.
In the news:
Syria lashes back at U.S. over `short-sighted' war.
The Other End of the Gun -- the Arab Focus on the War.
Syria edging closer to Iraq.