I learned plenty of things from
Lee Sandstead's lectures on art
. They gave me great inspiration to explore more works of art in the future. We are already planning for next year's event. It will be on art works displayed at the
Fürstenberg Gallery
at the
Gothenburg Museum of Art
.
Camilla H. took a picture of Lee Sandstead standing close to
Masthugget Church
, looking out at the harbor.
I look forward to Lee's book on
Evelyn Beatrice Longman
.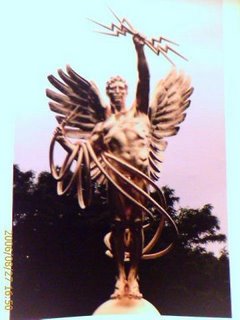 Photo by Ego. (Taken with a
Qtek 9100 smartphone
.) Print of
Genius of Telegraphy
.
UPDATE 09/05/06:
Lee Sandstead is interested to know more about the story behind the following poem:

The plaque is belonging to the
Water Lily
(Nymfea Alba in Latin, "
Näckrosen
" in Swedish) /
Sleeping Nymph
by Christian Eriksson /
Per Hasselberg
. From
Alles Kunst Net
:
Hasselbergs most original works were for the gallery of the private palace of the patron and art collector, Pontus Furstenberg in Göteborg; he sculpted six allegorical groups of life-size figures in plaster (1884; Göteborg, Kstmus.) representing the technical exploitation of the forces of nature. Hasselberg was probably inspired by French models such as Emile Arthur Soldiss reliefs Photography and Electricity (1882) on the Hotel de Ville in Paris, and by Michelangelos Medici tombs in the New Sacristy in S Lorenzo, Florence, but the allegories are completely his own. In 1886 he sculpted the Grandfather, an aged sleeping philosopher with a naked slumbering boy on his knee. Considered indecent, it caused a lively press debate in 1895 when it was posthumously erected in Humlegorden, Stockholm. The Frog (1890) and Water Lily (1892; both Göteborg, Kstmus.) are sensually modelled in white marble. They represent girls unaware of the power of their physical beauty. The latter was sculpted from Hasselbergs plaster model by Christian Eriksson (1858/1935). Hasselberg broke with the dry post-classical style of Swedish sculpture. His work shows the influence of Jean-Baptiste Carpeaux and French Salon sculptors of the 1880s, but also expresses a romantic natural lyricism. (www.ProArts.at)
Lee Sandstead in action. Photo by Avinesh K Ghai.
UPDATE 09/24/06:
Check out Lee Sandstead's galleries from
Gothenburg
.