What's going on with the
debate
on
immigration reform
? Could it be true that the majority of
Americans want closed borders?
If this is really the case, I hope the situation will change in the near future. Both
Pat Buchanan
and "
Gustav W. Bush
" have ancestors from foreign countries...
I recommend you to read
Harry Binswanger's white paper
(
Immigration Quotas vs. Individual Rights: The Moral and Practical Case for Open Immigration
) on
open immigration
.
Related: My posts,
IMMIGRATION
,
GREEN CARD LOTTERY
,
THE BUSINESS ASPECT OF ILLEGAL IMMIGRATION
,
FORBES ON IMMIGRATION
and
THE LAND OF OPPORTUNITY
.
Here is an excerpt from Nicholas Provenzo's post,
Welcome to the Second Carnival of the Objectivists
!
American-in-spirit Martin Lindeskog recalls his one-man counter protest of the ant-war left in Sweden. Would someone please get this man a green card and bring him to America so he doesn't have to suffer these imbeciles any more. (Rule of Reason, 04/07/06.)
[
Editor's note
to Nicholas Provenzo: Thank you! :)]
Mucho Caliente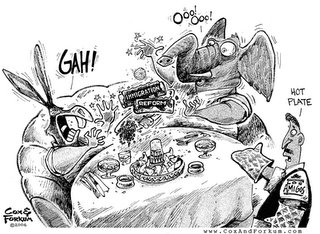 Tag
:
immigration
.