Doesn't
Michael Lerner
fit the
War Protester Check List
?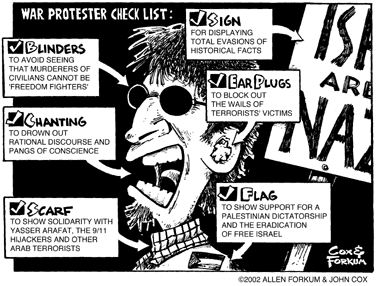 For more cartoons like this, check out John Cox & Allen Forkum's book,
Black & White World.
Why is it that the
anti-war movement
is
not really working
in an
"united way for peace and justice"
? The
"a.n.s.w.e.r."
is that the strongest member (in an ideological way) of the
anti-war "umbrella"
, is driven by
hard-core members of the Workers World Party
.
Be prepared for the anti-war rally on Saturday, February 15. I will watch out for the demonstration in Gothenburg, with the memory of how
THE ANTI-WAR MARCH DESTROYED THE PEACE...
on January 18.
Michael Moynihan @ the "Politburo"
will cover the rally in Stockholm... In the meantime, please
send your thanks to the U.S. military
. [Via
AboutTheWar.com
]
Related: my post,
WHAT'S THE A.N.S.W.E.R. TO THE ESCALATED CONFLICT?