Read
Why I can't vote for Dean
by "godless" @ Gene Expression. [Via
Jeff Jarvis
.]
For more on Dean, read the following articles:
Pinning down Howard Dean.
Leftward, Ho?
Infighting Between Dean, Rivals Gets Ugly.
If you want to bet on who is dropping out the race, check out Mark Steyn's "
Dem-olition derby
."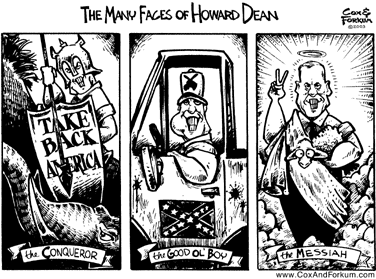 For more cartoons like
this
, check out
John Cox & Allen Forkum
's book,
Black & White World.