I thought that the correct name of the island, formerly called Formosa, has been
Taiwan R.O.C.
(Republic of China). I thought that the end part of the name - R.O.C. - is going back historically to the legacy of Chiang Kai-shek and his goal to take back the mainland of China. I think it could be a good idea cut the suffix "R.O.C." and shorten the name to
Taiwan
. The leaders of the nation should at the same time declare total independence from communist China (People's Republic of China).
In the news:
Taiwan holds massive war games.
Related: my post,
TAIWAN R.O.C.'S WAKE-UP CALL.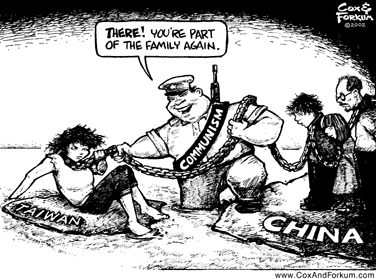 For more cartoons like this, check out
John Cox & Allen Forkum
's book,
Black & White World.