I don't think that Martha Stewart has
committed any crime
. She shouldn't be punished for
being successful
. Please, go and read Mark Steyn's article,
Martha Stewart Surviving.
I found the article on
Martha Stewart's personal web site
. It is a bit spooky to read that
FBI surfs Martha Stewart's Web site for incriminating evidence.
For more posts, go to
Dollars
&
Crosses
and the
Rule of Reason
.
UPDATE 06/14/03:
Check out
SaveMartha.com
.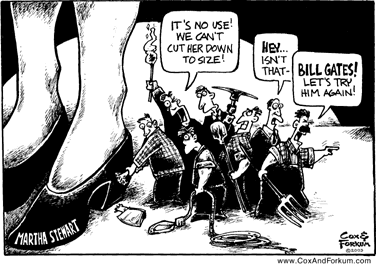 For more cartoons like
this
, check out
John Cox & Allen Forkum
's book,
Black & White World.
UPDATE 06/27/03:
News flash from the
Ayn Rand Institute
:
"Robert Tracinski, Senior Editor of the Ayn Rand Institute, is scheduled to appear on Fox News Channel's "
The O'Reilly Factor
" on Friday, June 27, 2003. The program airs at 8PM ET (5PM PT) and replays 3 hours later. Mr. Tracinski will discuss the Martha Stewart story. Check your local listing for times in your area."